When Maya Gabeira was a teenager, she left her home in Rio de Janeiro, Brazil to pursue her dream: surfing. And more specifically, surfing big waves.
A few years later, Gabeira achieved many of his surfing goals, including multiple Guinness World Records and the WSL Big Wave Awards. She also helped launch one of the greatest big wave discoveries of all time, Nazaré. It's where she resides these days, and where she continues to push the boundaries of big wave feuds.
But his last attempt was not in the water. Instead, she wrote a children's book – titled maya and the beast – aimed at inspiring young people (especially young girls) to pursue their dreams. So we called her in Nazaré to talk about it.
It turns out that Gabeira has no experience as a writer per se, but she has it in her blood.
"My father is a journalist and a writer," Gabeira said. "He published 14 books. I'm a surfer, which is definitely not his thing, but he inspired me. Other than that, I was in no way passionate about writing, nor had I studied it or anything like that. It was more of an instinctive experience. And it helped me to tell a story that I knew, because it was my story. And I wanted to share that with the world.
There's a famous quote, often attributed to Mark Twain, that goes something like this: "Write what you know." And for Gabeira, it was about writing about her own experience as a rising woman in the predominantly male-dominated big wave world. That, and his tumultuous love affair with surfing in Nazaré.
"Maya in the book was born in Nazaré, which I obviously wasn't," she said. "For me, I told because I feel like I have a kind of second life here [in Nazaré]. I was born here. But a lot of it really relates to my real life – like, how I got introduced to surfing, how it was a boy's sport, how I had to find ways to learn how to surf. I was very afraid of the ocean growing up; I had asthma, which has always been a thing for me. So there was a lot to overcome as a young teenager, just like Maya in the book.
Speaking of Nazaré, the book is set there, and Gabeira has an interesting relationship with the town and its notorious wave. It was there that she broke not one, but two Guinness World Records for the biggest wave ever ridden by a woman. This is also where she almost drowned in 2013.
"Now my relationship [with Nazaré] it's good," she said. "But we have had bad times in the past, tragic times. When I arrived here, I completely fell in love with the wave and its potential. After I had the accident, when I came back, I was very intimidated. I really wanted to overcome my fear, but I was not in a comfortable state of mind. It wasn't as fun as before because I knew the danger firsthand. I wasn't trying to prove to someone else that I could do it, that I was meant to be there; I proved it to myself. It took me a long time to change that relationship to what it is now. Now I have good memories in addition to this terrible. It's a very happy place for me.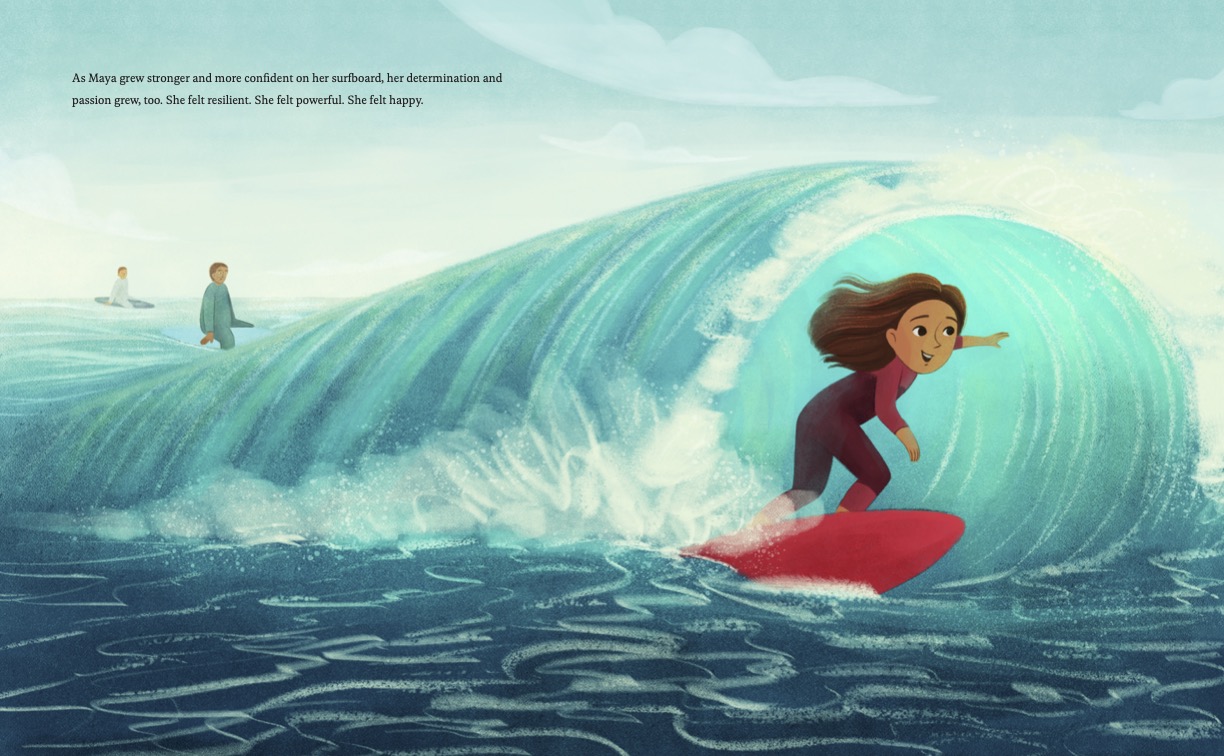 Just like Maya in the book, the real Maya Gabeira suffers from asthma…yeah, not the ideal condition for someone whose career involves long breaths. But much like the classic superhero trope, she found a way to see her weakness as a strength.
"I have to train a lot harder with stuff like holding my breath in the pool," she said. "It's something I've always experienced. In some ways it's a weakness, but I try to see it in a different way. It can be a strength. I already know what it's like to be out of breath. Even though it's terrifying, it's something I'm used to. So in a way it can be a strength in big waves.
When asked about the progress of women's big wave surfing – something she is one of the few women currently leading the charge – Gabeira feels proud of the progress that has been made, while noting that There is still a lot to do.
"Things are starting to change," she said. "The WSL does a lot to make women feel welcome in a predominantly male-dominated space – we have the same purse, the same competitions, the same awards. But everything seems a bit loose. Hopefully things get tighter on the competition side. It's still very new and we need to make it more professional.
And she hopes her book, maya and the beastwill show the next generation of big wave surfers that they too can earn their place in the lineup and conquer their fears.
"I want the book to inspire young girls to go out, to explore, to believe in themselves. There are so many obstacles that will come your way, but you can't give up. Never give up."
***
Click on Here for more info (and order your copy of) Maya and the Beast.